Zone Control Systems & Services IN YUCAIPA, REDLANDS, PALM DESERT, CA AND THE SURROUNDING AREAS
Zone Control Systems & Services in Yucaipa, Redlands, Palm Desert, Highland, San Bernardino, Loma Linda, Banning, Beaumont, Palm Spring, Thousand Palms, Indio, Colton, Rialto, Cabazon, California, and the Surrounding Areas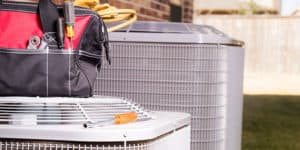 If your home doesn't have a zone control system call the Yucaipa, CA zone control installation experts at Russell's Heating & Air Conditioning. Zone control systems are a huge advantage for many homeowners because it allows them to control the temperature of different areas of their home independently of the others. Here at Russell's Heating & Air Conditioning, we've been in business for over 30 years and have worked with all different types of HVAC components. We specialize in helping our customers reduce the amount of energy that they use in their home. We know that you probably run your air conditioning or heating system almost every single day—which requires a lot of energy. Anything that we can do to help reduce your energy consumption we are happy to offer. We're available 24/7 for emergency heating or air conditioning services and we also offer free estimate on all new installation jobs. We would love to talk with you about how your home might be able to benefit from zone control systems so give us a call today.
The Yucaipa zone control system experts at Russell's Heating and Air Conditioning offer quality installation and repair services throughout the Yucaipa, California area including Redlands and Beaumont.
What Are Zone Control Systems?
Zone control systems allow homeowners with forced–air air conditioning and heating systems like central AC, heat pumps and furnaces to divide their home up into different heating and cooling zones. These zones can then be heated and cooled independently of each other. For example, you could set one zone to be your bedroom or a series of bedrooms. At night when everyone is sleeping, you can just heat or cool the bedrooms instead of having to heat or cool the entire house.
Benefits of Professional Zone Control System Installation in Yucaipa, CA
For all your zone control installation make sure that you call the friendly Yucaipa, CA zone control installation professionals at Russell's Heating & Air Conditioning. Zone control installation can normally be done fairly quickly. It involves cutting holes in your ducts and installing a series of dampers. Those dampers are connected to a new thermostat that controls all of the zones. Here at Russell's Heating & Air Conditioning we are dedicated to providing you with quality services and will make sure that your new zone control system works well and that it lasts for as long as possible.
Zone Control System Repair Services
While zone control systems are generally pretty reliable and stable they can eventually break down and require repair. Call the Yucaipa, CA zone control repair experts at Russell's Heating & Air Conditioning if you suspect that you're having problems with your zone control. Even though they're installed in your ductwork there are a few signs that can indicate that you need to have your zone control system fixed. If you start to notice strange noises coming from your ducts it could mean that the damper actuator is broken. Also, if you notice that your zones aren't getting heated or cooled enough it likely means that you need Yucaipa, CA zone control repair.
Zone Control System Maintenance
One of the best things that you can do for your zone control system is to get it regularly inspected and maintained. Call the Yucaipa, CA zone control maintenance experts at Russell's Heating & Air Conditioning if you'd like to set up regular visits of your heating and air conditioning system. During our regular visits, our pros will thoroughly inspect every component of your system including your zone control system. This will allow them to find any small problems and fix them before they turn into larger, more costly expenses.
Zone Control Systems FAQs
What are the parts of a zone control system?
A zone control system allows you to divide your home into heating and cooling zones. Essentially, you can heat or cool a specific area of your house at once. All of the zones can be set at different temperatures. A zone control system has three important components. These are thermostats, electronic dampers, and the control panel.
All HVAC systems have thermostats. These are the devices that allow you to set the temperature for your home. In a zone control system, there are thermostats for each zone. The thermostat in a specific zone regulates the temperature for that zone. Electronic dampers are installed into the ductwork. They direct the flow of air to the correct zone. Finally, the control panel controls the entire system. It is responsible for relaying the information given by the thermostats to the dampers and ensuring each zone stays at the correct temperature.
Pros of a zone control system?
There are a lot of positives to having a zone control system. Most importantly, they provide a more comfortable living environment, cost savings, and convenience. Your living environment will be more comfortable because you can tailor the different parts of your home to your needs. Thus, if you want your living areas to be hotter in the winter, you don't have to keep your unused bedrooms hot as well.
That leads us to the second big pro of zone control systems: energy savings. It costs money to heat or cool your entire home. The bigger the home, the more energy, and money is required. Zone control systems save you money by allowing you to only heat or cool the areas of the home you use. This is also extremely convenient. Just set up the different thermostats and continue living your life. You will not have to constantly manually change the temperature settings.
What sizes of zone control systems are available?
The size of a zone control system is determined by the number of zones it contains. Two to four zones are the most common. Your home's size and floorplan will determine which size of zone control system is right for you. Talk to the technicians at Russell's to learn more about zone control system sizes and to determine which one your home needs.
Common problems with a zone control system.
Nothing is perfect. That is true for zone control systems as well as every other system in your home. While zone control systems have a long lifespan, you may encounter a few common problems.
Bad thermostat or control panel: Thermostats and control panels sometimes fail. A thermostat problem is usually easier to fix than a bad control panel. The control panel controls your entire system. Without it, the zone control system will not work. A faulty thermostat can often be fixed by performing a reset.
Stuck dampers: Sometimes the dampers stick, which means they will not direct air to the proper zones. Professional damper cleaning is usually needed to fix this problem.
Can you retrofit a zone control system into my existing home?
Yes. Any home can be fitted with a zone control system. The experts at Russell's can give you a quote on installing a zone
Let's get started on your zone control project. Call Russell's Heating and Air Conditioning or fill out our online form and one of our specialists will get back to you right away. We appreciate the opportunity to earn a 5-star review!