Air Conditioning Replacement Service IN YUCAIPA, REDLANDS, PALM DESERT, CA AND THE SURROUNDING AREAS
Air Conditioning Replacement Service in Yucaipa, Redlands, Palm Desert, Apple Valley, Angelus Oaks, Big Bear Lake, Banning, Bermuda Dunes, Bloomington, Cabazon Canyon Lake, Coachella, Colton, Crestline, Desert Hot Springs, Downey, Fontana, Forest Falls, Grand Terrace, Indian Wells, Irwindale, Lake Arrowhead, Lake Elsinore, Los Alamitos, Moreno Valley, Morongo Valley, Muscoy, Oak Glen, Ontario, Perris, Rancho Cucamonga, Rialto, San Jacinto, Thousand Palms, Upland, Whitewater, Yucca Valley, Beaumont, Calimesa, Cathedral City, Cherry Valley, Highland, Indio, La Quinta, Loma Linda, Mentone, Palm Springs, Rancho Mirage, Riverside, San Bernardino, CA, South Jordan, UT and Surrounding Areas.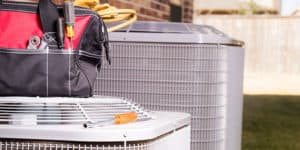 With all the use that your air conditioning system gets, it will likely require repairs at some point. But how do you know when you should replace your cooling system? If you're having any issues with your cooling system, call the Yucaipa air conditioning replacement experts at Russell's Heating & Air Conditioning. With over 30 years of experience working on all different types of air conditioning systems, we'll be able to help you figure out if replacement is the better option. Call Russell's Heating & Air Conditioning for professional air conditioning replacement service in Yucaipa, Redlands & Palm Desert, CA.
The Yucaipa air conditioning replacement specialists at Russell's Heating and Air Conditioning offer professional replacement services for cooling systems throughout the Yucaipa, California area including Redlands and Beaumont.
Signs to Replace Your Air Conditioning System
These are a few of the signs to watch out for that could indicate you need to replace your system:
Air conditioner age – If your AC is getting older and has started to require more frequent repair, it might make more financial sense to just replace the whole system. The air conditioning replacement pros at Russell's Heating & Air Conditioning will be able to help you determine if repair or replacement makes more sense.
Evaporation issues – Your air conditioning system naturally offers dehumidification services to your home. If you start to notice that your home is getting stuffy and uncomfortable it can be a sign that your air conditioning system isn't working well.
Strange noises – When your air conditioning system starts to make an unusual noise, it likely means that you should call for repair or replacement services. If your AC is squealing, hissing, gurgling or making a new noise call the Yucaipa, CA air conditioning replacement specialists at Russell's Heating & Air Conditioning.
Not enough cooling – When your AC can no longer keep you comfortable in your home it could be a good idea to replace it.
When you're ready for a new air conditioning installation in Yucaipa, CA, call the experts at Russell's Heating & Air Conditioning.
AC Replacement FAQ's
When do I need A/C replacement?
There are a few signs that will tell you it is time to replace your A/C system. The first is the age of the unit. If it is more than ten years old, then it is time for A/C replacement. Another sign that it is time for you're A/C to be replaced is if it stops working a lot. Breakages and problems are a sign that your air conditioner is not functioning as well as it should.A final sign that you're A/C needs to be replaced is if your energy bills rise. As an A/C system ages, it will become less efficient. That means it will take more power than normal to keep your home cool, which results in a larger energy bill.
What is involved in A/C replacement?
It does not take much for a professional to replace an A/C unit. It will mostly involve removing the old A/C and replacing it with a new A/C. The biggest steps of this process are replacing the central unit and possibly replacing the A/C ductwork.An HVAC professional will remove and replace the central unit. There are usually two parts to this system: the handler and the compressor. The compressor is the part of the unit that stays outside your home. The handler is usually located in your attic or on the main level of your home. Both handler and compressor will need to be re-installed during A/C replacement.The A/C ductwork may not need to be replaced at all. Instead, the professional may just clean or repair it. However, if you are upgrading you're A/C system, you may need new ductwork.
Does my whole HVAC system need to be replaced?
Not always. HVAC stands for heating, ventilation, and air conditioning. If you have a newer furnace and ventilation system, then those components do not need to be replaced during an A/C replacement. If your furnace is over fifteen years old or having problems, and A/C replacement is a good time to replace the furnace as well.
What size A/C unit do I need?
A/C systems come in a variety of sizes. To fully anticipate you're A/C needs, you need to consider several factors.
Square footage of your home. 

Size and numbers of windows. 

Age of your ductwork. 

Your location and climate

Your insulation and its age. 

Number of people in the home.

Number of appliances in the home.
Clearly, that's a lot of things to think about when determining your A/C needs. Your HVAC expert can help you find the right tonnage for your home.
How much does A/C replacement cost?
The cost of A/C replacement varies widely. Your true cost will be determined by the size and brand of A/C system, the company you choose to install it, and how much your existing system will need to be modified. In general, A/C replacement will cost between $4000-$12,000. Residents of the Greater Yucaipa, CA area should contact Russell's for an A/C replacement quote today.
Let's get started on your AC replacement project. Call Russell's Heating and Air Conditioning or fill out our online form and one of our specialists will get back to you right away. We appreciate the opportunity to earn a 5-star review!