Thermostats IN YUCAIPA, REDLANDS, PALM DESERT, CA AND THE SURROUNDING AREAS
Thermostats & Thermostat Services in Yucaipa, Redlands, Palm Desert, Highland, San Bernardino, Loma Linda, Banning, Beaumont, Palm Spring, Thousand Palms, Indio, Colton, Rialto, Cabazon, California, and the Surrounding Areas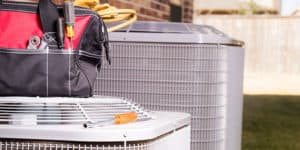 The thermostat in your home is one of the most important components of your air conditioning and heating system. If you need any kind of Yucaipa, CA thermostat installation, repair or replacement, call Russell's Heating & Air Conditioning. We've been in business for over 30 years because we've stayed committed to our customers' complete satisfaction and to the quality of service that we deliver. Our Yucaipa, CA air conditioning and heating technicians are experts in their field and have experience working with all different types and brands of thermostats. If you're interested in upgrading your thermostats from manual to digital or to programmable thermostats, we can help. We offer free estimates with a new installation and can help you find the perfect thermostats for your home. We're available 24/7 for emergency repair for those unexpected times when something happens in the middle of the night. Call us today to talk with one of our friendly Yucaipa, CA HVAC specialists about any of the thermostat needs that you have.
The Yucaipa air conditioning and heating experts at Russell's Heating and Air Conditioning offer quality thermostats and thermostat services throughout the Yucaipa, CA area including Redlands and Beaumont.
Yucaipa, CA Thermostat Repair Service
When you start to have problems with your air conditioning system or your heater you likely assume that it has something to do with the equipment in your basement or your garage. However, your thermostats are a very powerful component of your comfort systems and if they start to break down it can cause huge issues for you. Call the Yucaipa, CA thermostat repair experts if your thermostat won't turn on your AC or heater. Sometimes the batteries just need to be changed, but other times it could be something with the wiring.
Manual vs. Digital Thermostat
We often get asked what the difference between a manual and digital thermostat is. If your home is older and has a round manual thermostat, you might be wondering what you're missing out on with digital thermostats. Digital thermostats offer a couple of significant advantages over manual thermostats. First, they have large digital screens that are very easy to read. You can walk by and clearly see the temperature that the thermostat is set to. Second, they allow you to easily and accurately adjust the temperature in your home. Instead of a slider that manual thermostats have, digital ones use buttons so you can increase or decrease the temperature very precisely. If you're interested in Yucaipa, CA thermostat replacement call the friendly experts at Russell's Heating & Air Conditioning.
Benefits of Programmable Thermostat Installation in Yucaipa, CA
While digital and manual thermostats are very similar, programmable thermostats offer homeowners a very significant advantage. A programmable thermostat can be set to turn on and turn off at specific times. This gives homeowners more control over their home's energy usage which could potentially reduce the amount of energy that you use in your home. For example, if you know that you're going to be gone all day at work, you can set your thermostat to turn off when you leave. This will keep you from forgetting to turn off your system and letting it run all day when no one is there. Also, you can set your thermostat to turn back on 30 minutes before you get home so that your house is nice and comfortable when you walk through the door.
Wi–Fi–Enabled and Wireless Thermostat
The next generation of thermostats is here: Wi–Fi–enabled and wireless thermostats. These two types of thermostats are a huge leap forward and offer some pretty terrific options to homeowners. Wireless thermostats are used in conjunction with a zone control system. You can place the wireless thermostats in different rooms and move them around to adjust the temperature however you want. This gives you more control over which rooms get heated or cooled. It also lets your thermostat more accurately detect the temperature of the space immediately around you—instead of the temperature near the wall where it would normally be mounted.
Wi–Fi enabled thermostats offer even more control over your home's heating and air conditioning systems. With these units, you can actually control your AC and heating remotely from your computer or smartphone. If you forgot to turn off your air conditioning system when you left for work you can just access your home's thermostats from the internet. This is also ideal for people that have rental properties or vacation homes. You can make sure that your renters turned off the AC when they left so that it doesn't keep running after they leave. Call the Yucaipa, CA thermostat installation, repair and maintenance experts at Russell's Heating & Air Conditioning today if you're interested in learning more about these types of systems.